Blog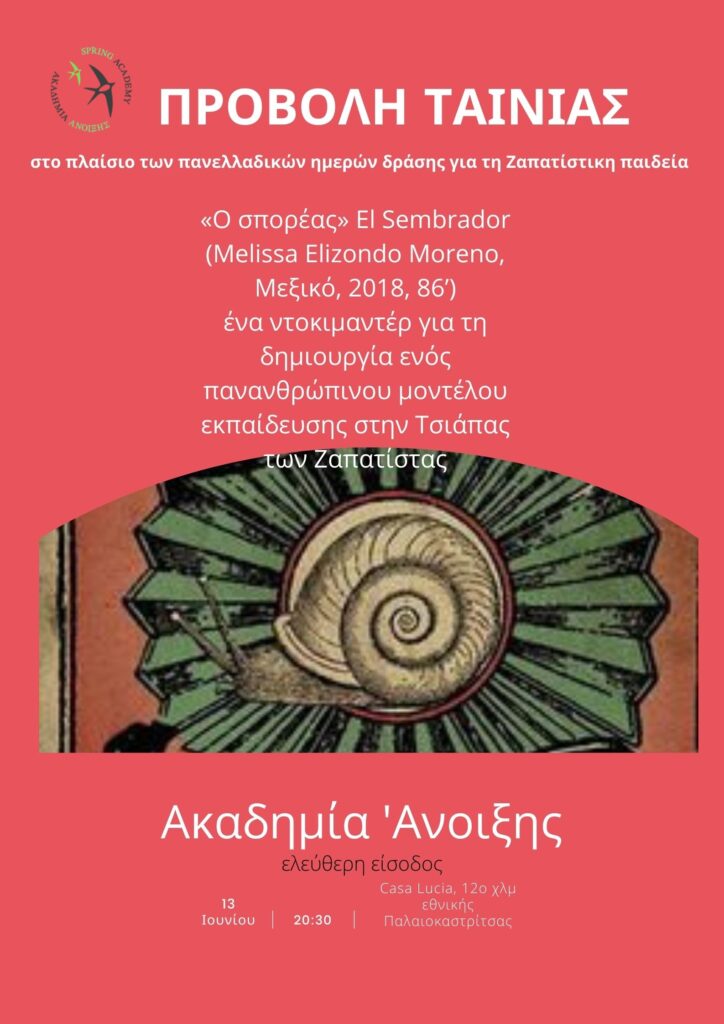 The sower
The Spring Academy is back!
With Evangelos Vlachakis who brought an idea for action after a long time of quiet.
As part of the nationwide action days for Zapatistas education, Spring Academy will screen the film: "The sower" El Sembrador
A documentary about the creation of a universal model of education in Chiapas of Zapatistas.
Saturday 12/06 at 20.30: Elea squat, Dörpfeld & Agioi Theodoroi, Mon Repo, Garitsa
Sunday 13/06 at 20.30: Casa Lucia, 12th km Paleokastritsa National Road
Both will be followed by an open discussion with members of various social pedagogy projects.
The screenings will take place outdoors and according to the measures.
The film is in Spanish and will be screened with Greek subtitles
Bartolome, a teacher who teaches children of all ages in the Chiapas Mountains in Mexico, knows very well that pedagogy is not based on textbooks and is not crammed into the four walls of a classroom. A true sower of knowledge unfolds its philosophy and method in front of the lens and becomes a beacon of hope for the creation of a universal model of education based on curiosity and love for the outside world.

On the occasion of the Zapatistas' trip to Europe, what community-inspired education means is a matter of a social pedagogy that converses with social movements. And we are called to make this dialogue a different school.
It will be nice to meet.