Blog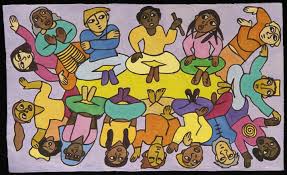 "Children's assembly"
Spring Academy invites you to the screening of the documentary "Children's Assembly" (30′) by the pedagogical venture "Small Tree".
A montage of children's assemblies from films and documentaries. Filmings and reconstructions of children's assemblies from schools around the world.
Childrens' communities discuss, solve problems, decide and act.
Further information.
We will also see excerpts from Small Tree assemblies.
The direct democratic assembly is a key tool in pedagogical endeavors that operate in accordance with the values ​​of libertarian education and experiential learning.
Prompted by what we see, we will have an open experiential discussion on the pedagogical application of the method of Non-Directive Intervention (NDI), from which we will shift to the democracy of social life, where we define ourselves, our goals, we self-organize and live what we want to live.
Opening the range of communication with children, in this discussion we will ask ourselves and we will deal with issues such as:
How to set children, young people, free to express their potential and diversity, to develop their skills, to interpret the world and not to accept it as interpreted.
How to transform the pedagogical relationship (education – upbringing) into a developmental relationship for both adults and children
How daily communication with children can become an ultimate tool for healthy development and prevention of psychopathology
Wednesday 14/07/21
21:00 Eastern European Summer Time (EEST).
Participation can be live at Casa Lucia, 12th km Paleokastritsa Nat. Rd, Corfu or online on Zoom. Please register.
The meeting will be:
intergenerational and bilingual: for all ages, there will be Greek and English subtitles and translation where needed
outdoors and in accordance with the health measures
with free contribution to support the Small Tree and Spring Academy
Coordinated by Katerina Tranouli, Psychologist, NDI psychotherapist, yoga instructor, mother of two children, 11.5 and 10 years old.
More about Katerina