Saturday Kids' Club – Kali Potts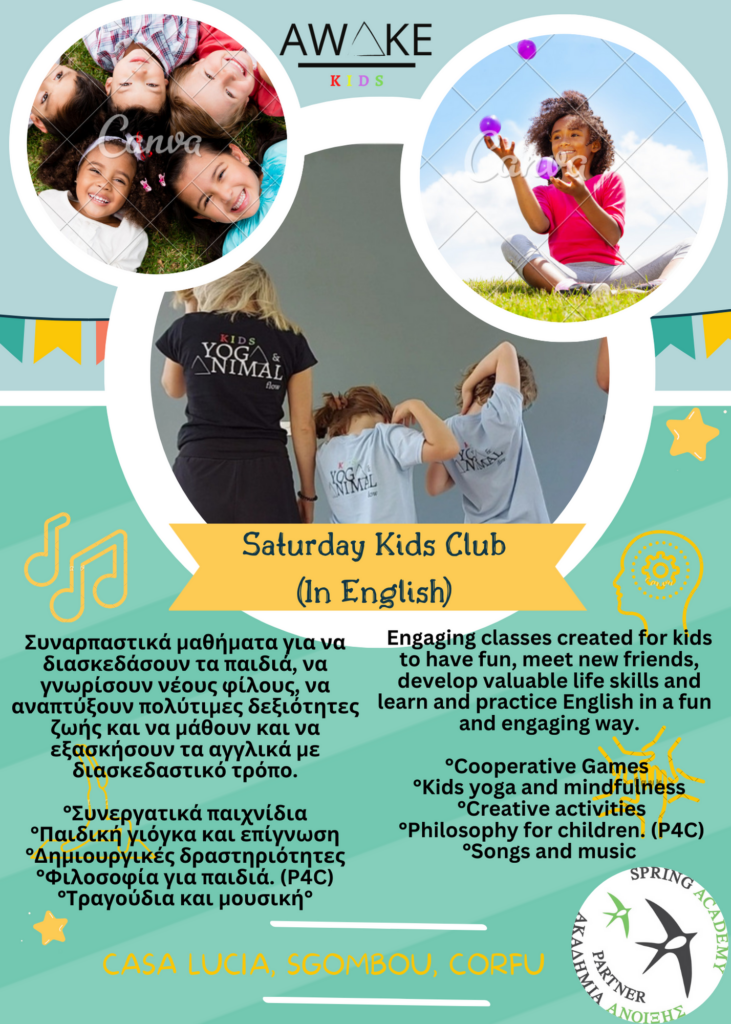 Every Saturday morning 9:45-10:45 
Languages: English 
Participation: in person
Registration necessary: 
6906274768
info@awakemindandbody.com
Place: Casa Lucia, Corfu 
8€
Yoga for children:
Children will learn and practice postures that will improve strength, flexibility, coordination, balance and body awareness. They will learn techniques to rebalance the nervous system, empowering them to access their inner peace and a feeling of calm with more ease.
Games and mindful skills:
Children will play feel-good games and learn new skills such as, juggling. These games will help to bond the group, build self esteem and help to create a more positive and creative mindset. The new skills they learn will be broken down into achievable steps, allowing every child to feel motivated to learn and leave the sessions feel proud of their accomplishments.
Philosophy for Children:
This approach will help to structure and facilitate a nurturing environment. Children will be have the opportunity to speak and be heard while exploring some light hearted philosophy questions. They will be gently encouraged to offer their opinions and beliefs on topics such as, 'why do we dream?' and 'what makes a good friend?'
The discussions will be interweaved with games and activities which help to trigger 'big ideas' and 'out of the box thinking'.
Most importantly the children will have fun and meet new friends.