Blog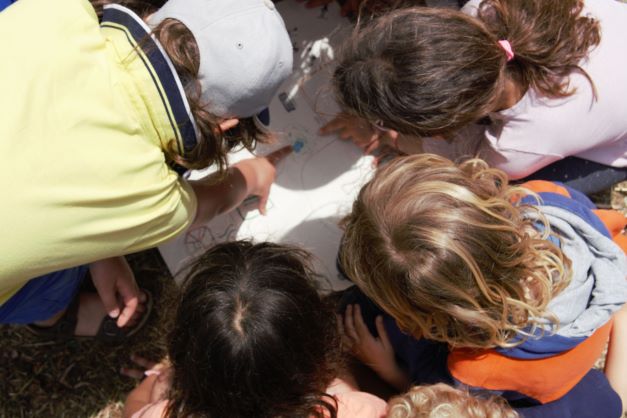 Free to Learn – An International Community for Freedom of choice in learning
Open call for the creation of an international
Community for Freedom of Choice in Learning
This movement began in 2015 with the cooperation of groups, families, individuals and organisations with the aim of ensuring the right to choose learning in Greece and wherever else the right is violated similarly.
From the beginning, the goal was to overcome obstacles through the creation of diverse ventures that work in combination and the creation of an increasingly strong nationwide network in close cooperation with the international network.
The three organisations described below have literally evolved from each other, with a specific strategy of partnership and mutual support and a common goal of the alliance for freedom of choice in learning inside and outside Greece.
Spring Academy started in 2015 as a study group for educational reform in Greece and in 2017 it evolved into an annual 5-day inter-age agile learning community.
Objective: the immediate implementation of the right το choose what/when/how/with whom you learn with simultaneous action towards ensuring it.
Among many other things, members worked on the composition and submission of a comprehensive legal proposal to the Ministry of Education for fundamental reform of the Education System with the Greek Action for Human Rights "Pleiades" in 2015.
In 2016 they completed Start a School 101 with AERO (Alternative Education Resource Organization) creating a legal strategy, prototype Articles of Association and Guidance document specifically designed to overcome the limitations of the right in Greece and wherever else it is violated similarly.
This was followed in 2017 by the creation of EUDEC Greece, the Greek Regional Chapter of the European Community for Democratic Education (EUDEC).
Objective: promotion of Democratic Education and related alternative models in Greece in cooperation with the European and international community.
Among many other things, EUDEC Greece organised the Pan-European Conference on Democratic Education in Crete in 2018 (EUDEC18), and the "SYMPRAXIS – School Partnership for Democracy in Education" program approved by the Institute of Educational Policy (I.E.P.). Partnerships between EUDEC Democratic Schools and Greek Schools of Primary and Secondary Education with the aim of spreading Democratic Education tools.
The next step in 2019 was the creation of the EducationPlus Association "Community for Supporters of Alternative and Emancipatory Forms of Education.
It is the only Greek association for the defence of the right to free choice in the approach to learning and the first version of the prototype legal structure we created in 2016.
Among many other things, since 2020 the union is a legal representative of the branch of the European Community for Democratic Education in Greece (EUDEC Greece).
Here we have an example of the kind of legal collaborations we propose. We created a Greek Association that gives further legal effect to chapter of a European organisation in Greece.
We are now referring to the Association EducationPlus/Eudec Greece.
The next step in 2022 was the establishment of the Spring Academy Association "Intergenerational and Interdisciplinary Learning Community Without Borders" with the next evolution of the prototype legal structure to give decision-making rights to under 18s and to legitimise and normalise learning communities.
Spring Academy is a year-round international community of democratic, flexible and self-directed learning for all ages and socio-economic groups.
The goal 
to bring the responsibility and act of learning into the community.

to normalise learning communities as an option by and for all ages , which entails decision-making power for those under 18. 

for learning environments which assure the inviolability of freedom of conscience to be available to all who wish to use them.

for this approach to learning to be legitimised, socially integrated and publicly available.
Strategy 
creating and connecting agile communities for learning which support and reinforce each other while maintaining their autonomy

expanding the potential of our prototype legal structure through its use by these communities independently and interconnectedly, to safeguard and propel freedom of choice in learning

Innovative hybrid use of new technology for learning; combining digital and actual localities to overcome restrictions in collaboration and coexistence beyond borders.

Free to Learn – Αn International Community for Freedom of Choice in Learning
In 2023 Spring Academy in collaboration with further groups and individuals makes an open call for a Community for Freedom of Choice in Learning.
The movement to secure the right to choice in learning is still weak in terms of state and transnational coordination.
Unity and Consistency is required.
The immediate goal:
Gathering and mobilising individuals, groups and families who want the right to choose in learning either through:
the right to full pedagogical autonomy
the right to pedagogical autonomy as a way to create/institutionalise learning communities
the creation of formal and informal learning structures (from self-organised schools to private ones)
substantial reform in the public sector

Regular meeting, collaboration and coordination for meaningful action with a critical mass of citizens capable of bringing about political/legislative/social reform towards securing the right to choice in learning
Means
Creation of a Register "Freedom of choice in learning"

of individuals & organizations towards the joint/collective execution of the necessary mobilizations/actions
In these circles we answer questions, explore suggestions that individuals, groups and families have and coordinate action towards freedom of choice in learning.
Strategy
Our experience so far has shown us again and again that to succeed it is necessary
to succeed beyond economic-social borders

to practice whatever is a recognised human right and legal according to the Greek Constitution NOW

to make the violated rights known, respected and normal THROUGH their practice

to create the capital for work opportunities in the field 

to have a common line with the EU's proposals and with all the international agreements Greece has already signed

to coordinate legally in order to create a critical mass of citizens capable of bringing about political/legislative/social reform towards securing the right to choice in learning

AT THE SAME TIME systematically reporting violations from all fronts (Education and Welfare)

to be a transnational legal alliance

to make a transnational appeal for the legalisation of choice in learning and the transfer of the obligation to states to provide it publicly

not for adults to represent minors but to represent the appeal and the report together
In short, in order to succeed, we need to allow nothing to separate us and we need to coordinate our legal and political action for educational autonomy with the practice of everything that should be legal and public in our country. At the same time.
The idea that the former should be done first and then the latter has not worked.
Also, all ages need to have equal say and participation.
What we have done so far
We have established close partnerships with international organisations of utmost importance for educational reform.

We have connected European organisations with Greek ventures and created a regional chapter.

We have created prototype associations that give legal/political power to the regional chapter in the Greek context and openly and officially represent the movement.

We have brought together many ventures (formal and informal learning) within Greece

We have brought many pioneers and elders of the international community for training programs in Greece

We have implemented or supported implementation of the right to choose in learning in various parts of the country and abroad for the last 8 years.

We are developing a system of collective presentation/promotion/normalisation of the action and a platform of substantial hybrid cooperation.

We have created prototype open access Articles of Association and Guidance Document for autonomous and collective use. These are in both Greek and English.

We have translated books, articles, videos and more in to Greek

We have established relationships with legal and similar organisations inside and outside Greece for legal representation of the venture

We are evolving a legal strategy of association/twinning while maintaining the autonomy of the individual ventures towards the creation of an Interstate Union for Freedom of Choice in Learning and the implementation of a

Global Appeal for the redefinition of education
The venture is a continuation of the work of the Associations of Spring Academy and EducationPlus/Eudec Greece.
It is based on the work already done and the strategy already set up.
The existing circles of both Associations are in the process of integrating to operate collectively. The aim is to unite human resources, research and material.
The community aims to create a transnational union with a similar prototype legal form.
Next steps
Staffing and funding of existing working groups and creation of new ones where necessary

Inclusion of minors in proceedings